The Order of the Daughters of the King is called to bring others to Christ by showing love to others throughout the world. Holy Trinity Chapter is connected to an international spiritual sisterhood of over 25,000 women all of whom take a vow to follow a Rule of Life – the Rule of Prayer and the Rule of Service. Daughters are recognized world-wide by their silver cross worn and inscribed in Latin with the words, "Magnanimiter Crucem Sustine" which means; with heart, mind and spirit we are reminded to uphold and bear the cross.
Daughters provide outreach to:
 Homeless men through collection of

380

pair of white cotton socks distributed during the Christmas season.
Homeless men and women through serving the lunch meal following Church in the Yard.
 St. Luke's Community House through volunteerism and donation.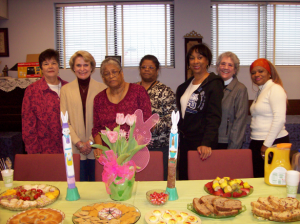 Information about the Tennessee Daughters of the King may be found at Diocese of Tennessee DOK.